Where to Pre-Game, Post-Game and Watch the Game in Toronto
He shoots, he scores… a good deal, that is!
When it comes time to enjoy the big game, Toronto fans know how to make the most out of cheering on their favourite team. For a pre-game meal just steps from Scotiabank Arena and the Rogers Centre to the best places to watch and where to celebrate with post-game drinks, O&B has got deals across the board during Leafs and Jays home games. We've rounded up the best game night (and day!) happenings across the city where die-hard fans and spectators alike can get in on the action.
Enjoy Dinner and Drinks Before the Game
Canteen

330 King St. W.
When baseball season is in full swing, catch #NextLevel deals at Canteen, located just steps from the Rogers Centre! Stop by to pre-game and enjoy $22 pitchers of Lost Craft Revivale and High Park Brewery Rings of Saturn Hazy IPA, or grab a glass for just $5.50! Hungry? Fuel up with a $15 Classic Dog with Fries, or upgrade to their epic Next Level Dog with Fries for only $17. You won't strike out with Canteen's grand slam specials, available on Blue Jays home game days!
8 minute walk to the Rogers Centre.
Sap Canadian Comfort Food

401 Bay St.
Looking for a deal that offers more bang for your puck (ahem, buck)? Stop by Sap's bar and lounge to pre-game with their extended Happy Hour during Leafs and Jays home games! From 2pm until close, enjoy $5 Furnace Room Beardmore Kölsch, $5 bar rail, $1 per ounce wines and $10 classic cocktails! Sip your beverage in the lounge or cherry-pick a seat at the bar. There's no catch, don't miss out on this home run special!
Biff's Bistro

4 Front St. E
Whether you're gearing up to enjoy a night of live sports or you're just in it for the steak, Toronto fans can dig into the game day special at Biff's Bistro before any home hockey game. From 5pm 'til the game starts, enjoy a 16oz rib eye steak for two served with frites, green beans, Béarnaise sauce and red wine jus for only $80. For just a toonie a piece, enjoy $2 oysters daily from 2–6pm with the purchase of a bottle of wine (while supplies last). Plus, swing by daily for Cocktail Hour from 4–6pm and sip on $12 "Biff's Favourites" cocktails. Although the best deal might be their parking — a steal at just $3 after 5:30pm on weekdays and all day on weekends at 33 Yonge. Simply call prior to your arrival and ask for the code to enter at your pay station.
6 minute walk to Scotiabank Arena.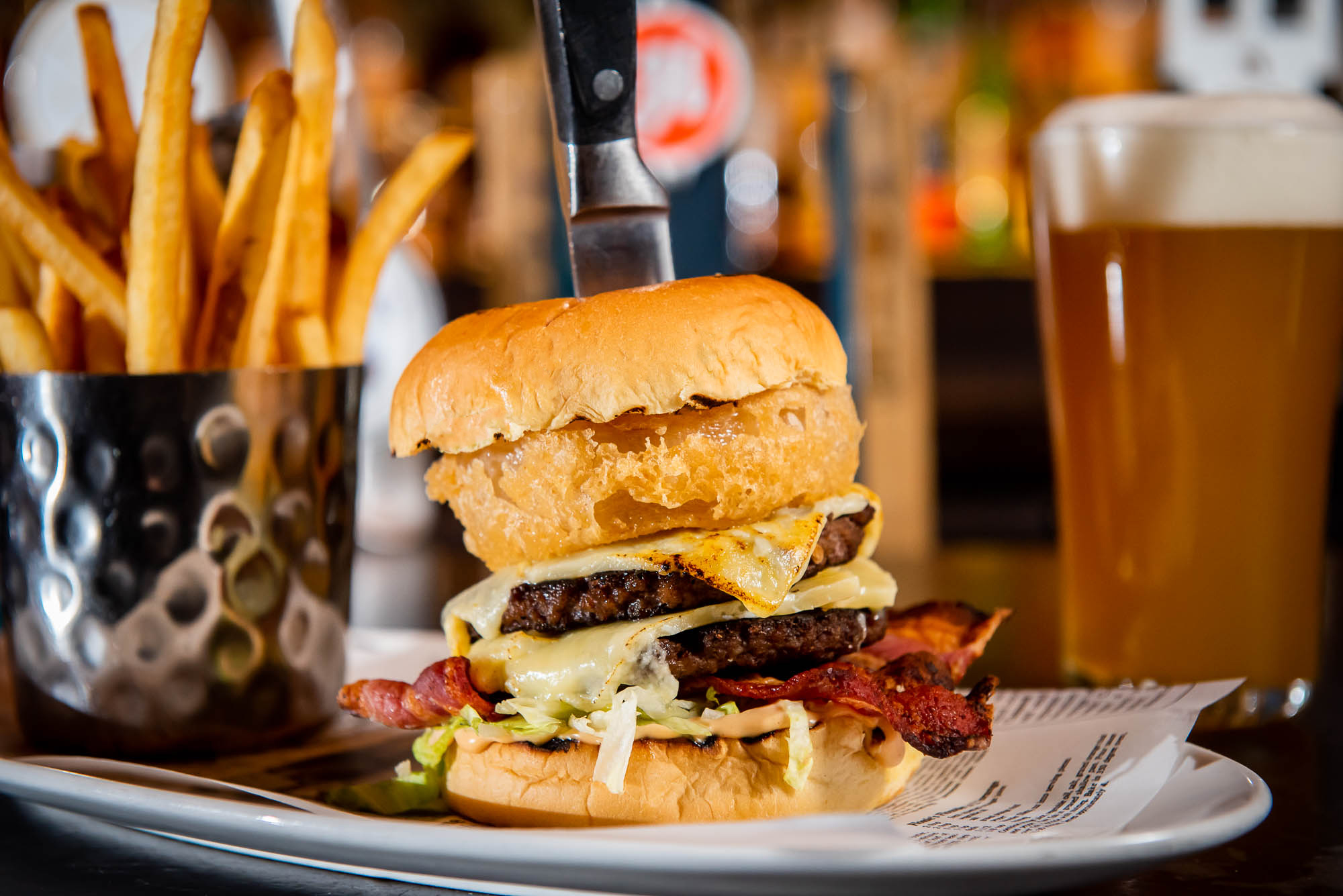 Oliver & Bonacini Café Grill, Yonge & Front
33 Yonge St.
A little game day fun never hurt anyone! Whether you're looking to grab a post-work drink or some brews and bites near the action, O&B Café Grill, Yonge & Front has got you covered. During Leafs home games, dig into the Game Day Burger, a delicious deal at just $24, or get fired up with a $6 Slap Shot or Three-Pointer, two tasty specialty shots. And don't forget Happy Hour! From specials on frosty pre-game beers to signature cocktails and wine, there's a go-to feature for every taste daily from 2–5pm. Plus, enjoy underground parking for $3 at 33 Yonge after 5:30pm on weeknights and all day on weekends when you call ahead for the code!
6 minute walk to Scotiabank Arena.
Jump
18 Wellington St. W
When it comes to Leafs fans, residents of The Six are known to go big or go home. In that spirit, Jump's mouth-watering game night special Surf & Turf definitely fits the bill. Featuring a 6oz beef tenderloin, scallop and shrimp skewer, sunchoke purée, Swiss chard, rosemary and sherry jus, this delicious $57 feature is available when Toronto is on home ice or court. Plus, add a 6oz wine pairing hand-picked by Jump's sommelier for $19. Plus, check out Jump's Happy Hour deals Monday to Friday from 2–6pm. Skip the hassle (and the cost) of parking in the core and park at Jump for only $2 from Monday-Friday after 5pm and $3 on Saturdays after 3pm.
7 minute walk to Scotiabank Arena. Accessible via The PATH.
The Rabbit Hole
21 Adelaide St W.
Still a short walk from the hub of the action, hop on down to The Rabbit Hole and wet your whistle before or after game night gets underway. Located at the foot of Scotia Plaza Tower, stop by for Happy Hour where some of the best drink deals in the area are flowing Monday to Friday from 3–6pm and Wednesday to Saturday from 8:30pm. Cheers to some serious savings on select draught beer, bubbles and select wines, plus Rabbit Hole favourite cocktails and rail spirits. Talk about a slam dunk! Hungry? Dig into some hearty British pub fare like Steak and Mushroom Pie and Ale-battered Halibut & Chips. Fancy a snack? You can't miss the Scotch Egg, Welsh Rarebit and Beef Tartare.
10 minute walk to Scotiabank Arena. Accessible via The PATH.
Watch with Us or Stop by Post-Game
Liberty Commons at Big Rock Brewery

42 Liberty St.
Elevating game night to a whole new level, there's no better place in Liberty Village to watch your favourite team take on the competition. Serving up epic BBQ, mouth-watering burgers and Yorkie Pudding + Corn Chip Nachos to solo fans and team-sized groups, Liberty Commons at Big Rock Brewery's TV-clad brewpub has got it all. Pull up a chair at the bar or watch from the dining room and enjoy Happy Hour drink specials from 3pm until close. Once the game ends, stick around to celebrate (or…drown your sorrows). Catching a TFC, Argos or Marlies game? Stop in on your way to or from BMO Field and Coca-Cola Coliseum.
Staying In? Order Game-worthy Eats at Home
Beauty Eats

Bayview Village, South Parking Lot, 2901 Bayview Ave.
Watching the game at home? Beauty Eats is your go-to spot for an epic game night spread. Those tuning in from Friday to Sunday can enjoy Weekend BBQ Specials like low and slow, smoked and sticky BBQ Pork Back Ribs and heavenly House-smoked Brisket and Brisket Sandwiches (Friday and Sat only). Or, take a bite out of their Detroit-style Pizza cooked in deep blue steel pans using the proper Motor City method. Don't worry, they've got Nachos, Kick-Ass Wings and Fried Chicken to boot. That's what we call a fully stacked lineup! Drop in or order online for takeout and delivery.
There you have it, Toronto — a play-by-play of some of the city's best spots to celebrate all things sports, whether you like to pre-game, post-game or simply enjoy the game! What are you waiting for? It's game on!