Celebrating Cinco de Mayo
Commemorate the holiday at home with authentic Mexican flavours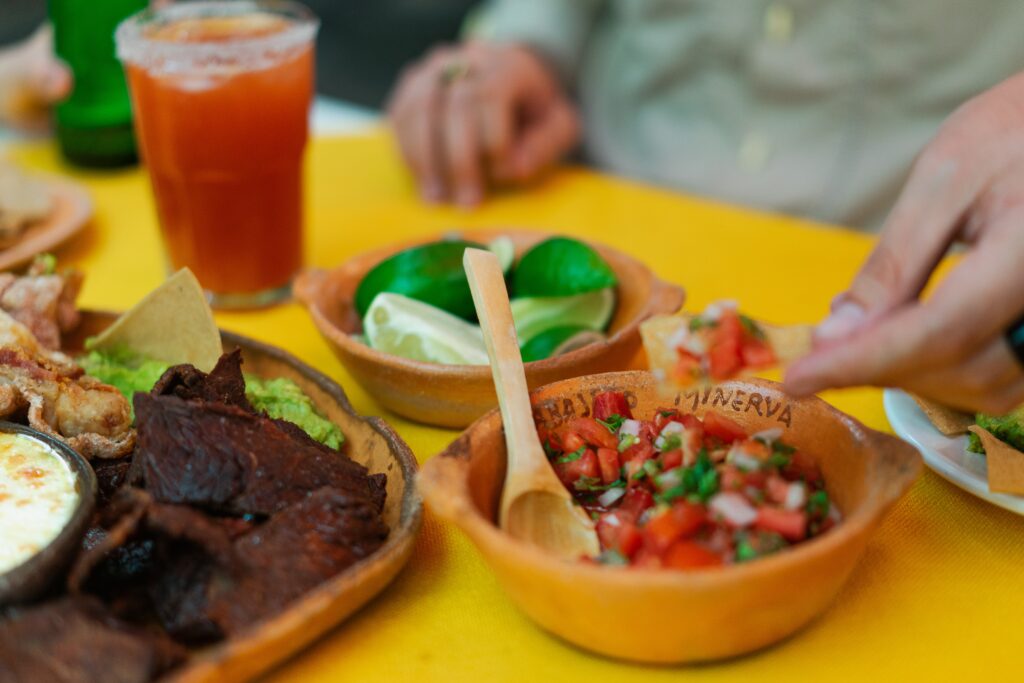 A Brief History Lesson
Commonly misconstrued as Mexican Independence Day, Cinco de Mayo (which translates to May fifth) instead marks one single battle. Also known as The Battle of Puebla Day or La Batalla de Puebla, it commemorates Mexico's 1862 military victory over the French forces of Napoleon III. While it is a public holiday in the state of Puebla, Cinco de Mayo is rarely celebrated elsewhere in Mexico. However, primarily in North America, it has become an occasion to celebrate Mexican culture and heritage, particularly in areas with large Mexican populations.
While not from Puebla, Esau Garcia, Chef de Cuisine at Leña, knows what it takes to pull off a good fiesta. Born in a small town in Mexico's northern state of Chihuahua, we asked him to share a few Mexican traditions that are close to his heart. Here's what he had to say.
What are some traditional Mexican foods that are often enjoyed on holidays like Cinco de Mayo?
It is tradition to eat mole (pronounced MOH-lay), a Mexican sauce that, when done properly, takes hours and sometimes even days to prepare. With endless different forms, many of which can contain upwards of 30 ingredients, to celebrate Cinco de Mayo, people generally make 'mole poblano', which originates in Puebla.
How do you like to celebrate when you get together with family and friends?
When my family gets together, food is central to the celebration. We like to feast! We'll make a few traditional dishes, or on very specials holidays, we'll roast an entire animal like pig, goat, or lamb with charcoal and wood.
Have you found any favourite restaurants in Toronto that offer a taste of authentic Mexican food?
I'm always exploring when I can. I can definitely say that Toronto has some incredible dishes, and I'm looking forward to continuing the search for new dining destinations. What I have discovered, though, is a favorite tortilla… the corn tortillas from Maizal Tortilleria. They are special because they use traditional techniques and ingredients.
What about drinks? Any cocktails that should be enjoyed on Cinco de Mayo?
Anything with tequila!
On that note, Chef Esau has shared his recipe for pink mole, a traditional dish from central Mexico, while O&B's Cocktail Specialist Raj Rijhwani details his steps for mixing up a killer margarita to match. No matter how you choose to fiesta, we hope your Cinco de Mayo is filled with delicious cuisine, strong drinks, and great company.
Ahora celebremos!
Pink Mole
Ingredients:
600ml water
200g cashews
120g beets
100g onions
20g garlic, peeled
2 cloves
3g ground cinnamon
8g salt
20ml canola oil
16g sesame seeds
1g cumin seeds
1g allspice, whole
1g coriander seeds
Method:
In a pot, add water and boil the cashews and beets on high for 20 minutes.

In a pan, toast the cloves, sesame seeds, cumin, allspice, and coriander seeds until fragrant. Reserve.

In a separate pan, add oil and sauté the onion and garlic until golden, being careful not to burn them. Add the salt and ground cinnamon.

Add all the ingredients to the pot of beets and cashews. Cook together until mixture reaches a boil.

Once boiled, blend all ingredients together until smooth.

Serve with a side of rice and add chicken for a complete meal.
Margarita Verde
Ingredients:
1.5oz jalapeño-infused Dejado tequila (see below)
0.5oz Licor 43
0.75oz lime juice
0.5oz agave syrup
1oz Village Juicery Be Nourished juice (or any good quality green juice)
1 snap pea
5 mint leaves
Tajín spice
Method:
To make the jalapeño-infused tequila, thinly slice a jalapeño, making sure to discard all seeds. Add to a bottle of any blanco tequila and let sit for 24 hours before straining.
Rim an old fashioned glass with lime juice and Tajín spice.
In a shaker, muddle the snap pea and mint leaves with lime juice. Add tequila, Licor 43, agave, and green juice. Add ice and shake.
Using a mesh strainer, strain into the rimmed glass over ice to ensure muddled pea and leaves are left out.
Garnish with a lime wheel and enjoy!