Where to Find Toronto's Best Booze-Free Cocktails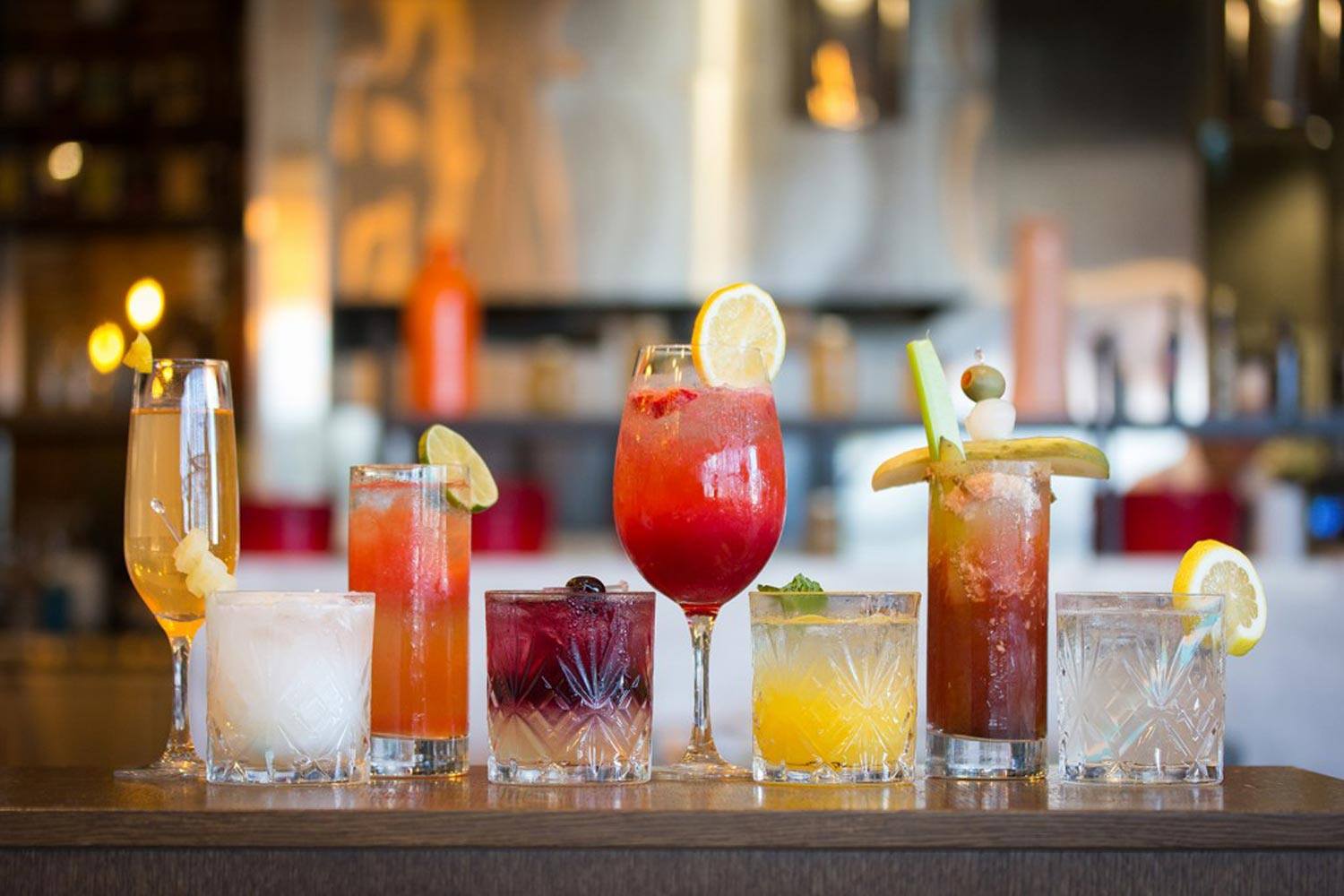 Are you trying out dry January? Maybe you're joining the sober-curious movement or dipping your toes into a 'damp' lifestyle? Whatever the case, going booze-free has never been easier with restaurants across the city crafting zero proof cocktails with the same quality ingredients, balance, technique and attention to detail as their classic alcoholic counterparts.
With a rise in the availability of non-alcoholic spirits, wines, beer, and even fully non-alcoholic bars and bottle shops, it's clear there's an appetite for beverages that deliver on the indulgent feeling of sipping on a celebratory drink without compromising on taste, complexity or presentation. To ensure our moderation-minded patrons have no shortage of non-alcoholic options, we've rounded up 10 O&B restaurants serving up some of the city's best spirit-free cocktails that don't skimp on the wow factor. Happy sipping!
Jump
At this timeless Toronto treasure, pair your meal with a fresh and flavourful non-alcoholic cocktail as you take in its legendary sky-high glass atrium, hidden-gem courtyard patio, and bustling wrap-around bar.
Virgin Lychee & Passion Fruit Collins
0.5% ABV Monday gin, lychee & passion fruit juice, lemon, soda
The Rabbit Hole
Using the German line of 'Undone' alcohol-free spirits, The Rabbit Hole offers up similar versions of classic favourites using ingredients like an Italian aperitivo that smells like aromatic wormwood herb, cinnamon and sweet orange. Hot tip: The Paper Plain and Wimbledon Spritz are also top-notch.
No-groni
Undone No. 2 gin, Undone No. 9 red vermouth, Undone No. 7 orange bitters
Biff's Bistro
Say bonjour to a classy zero proof cocktail to match a decadent menu of refined French fare with tropical flavours that combine ginger, clove, almond and fresh lime with a punch of pineapple. For something a little less island-inspired, La Parisienne is also a hit, featuring grapefruit, basil and pink peppercorn. Au revoir, hangovers!
Mademoiselle Bordeaux
BG Reynolds falernum, ginger beer, pineapple & lime juice
Luma
Offering one of the best happy hours in the city, Magic Hour delivers a glowing lineup of booze-free beverages, too! Find a substitute for your 5 o'clock martini with their selection of tasty handcrafted concoctions.
No-tini
cranberry juice, black tea infused with juniper, orange-vanilla syrup, lime juice
Maison Selby
A visit to the historic C.H. Gooderham House in Toronto's vibrant St. James Town means a stop at Maison Selby, where the drinks are just as impressive as the menu of seasonal French classics with a twist. Psst… you might want to venture downstairs to Sous Sol, an underground speakeasy where spirit-free options are also in full supply.
Raspberry Pepper Mojito
raspberry, black pepper, lime, mint, soda
Want to make this at home? Cocktail Specialist Raj Rijhwani shares the recipe here.
Oliver & Bonacini Café Grill, Yonge & Front
Whether you're catching a show at Meridian Centre or looking for a pre-dinner pick-me-up before a game at Scotiabank Arena, stop in for a drink at the corner of Yonge and Front and enjoy unique refreshers like this blue-hued beauty.
Lucid in the Sky with Diamonds
lime juice, sugar, club soda, blue butterfly pea flower tea float, sugar & salt rim
Parcheggio
It's always time for an aperitivo in Italy! If you find yourself craving a boozeless bevy in North York, Parcheggio's selection of non-alcoholic options is sure to please and is designated-driver-approved!
Lemon Berry
mint, raspberry, lemon wedge, Monin lemon syrup
Beauty Eats
Another uptown stop that fits the booze-free bill, Beauty Eats delivers on the familiar flavours of everyone's favourite classic cocktails so you can get your fix without the resulting tipsiness. Its creative menu of zero proof options are the perfect accompaniment to its blow-your-socks-off BBQ.
Faux G+T
seedlip spice 94, tonic water, chasers lime juice
Beaumont Kitchen
Craving the virgin piña colada of your youth? Beaumont Kitchen has got you covered! Just as delicious as its creamy original, this one uses coconut water and tropical fruits for a lighter version that brings the sun without the rum.
Coco-lada
coconut water, pineapple & lychee cactus pear juice
As you can see, when it comes to dining out, those looking to lose the booze aren't confined to just pop and water anymore! Our talented teams of bar chefs and mixology masters are serving up inspiring and creative cocktails that make going dry easy, effortless and oh-so-delicious!
Cheers!