VIRTUAL EVENTS & EXPERIENCES
We all know that sharing food is at the heart of many gatherings. Our virtual event packages are designed to bring a taste of togetherness, even while staying apart, and are perfect for corporate or social experiences.
From morning meetings to virtual dinners with wine — we've got you covered for your next virtual event! Don't miss out on everyone's favourite part of a conference — and have meals delivered to your attendees' doorsteps. Or invite a client to an online lunch, and enjoy food together.
HOW TO ORDER
We deliver throughout the GTA. Contact an event specialist at events@oliverbonacini.com or call 416-364-1211. We will request a whole week's notice to prepare the logistics and routing for your event.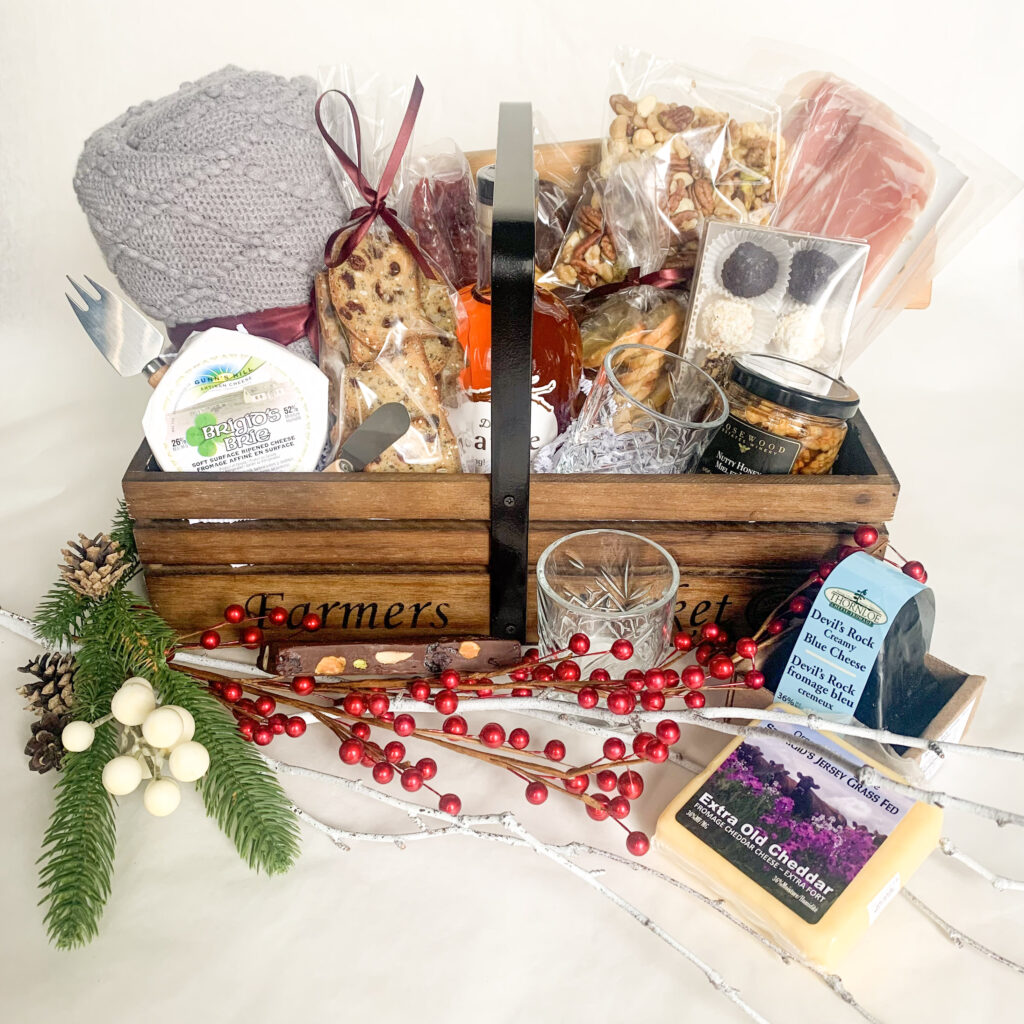 Gift Boxes
We've carefully curated an assortment of gift boxes filled with O&B prepared food and thoughtful additions. Each box is packaged in a useful and reusable way, so it's the gift that keeps on giving.
Breakfast
Start the day off right with our virtual breakfast offerings! From our breakfast boxes that serve two, to an assortment of individual break items, we're here to help make your morning meetings easy.
Receptions
From a virtual "bar cart" featuring bites and brews, to a wine and cheese reception and à la carte snacks, our end-of-day offerings are the perfect way to wind down after a day spent on Zoom.
Heat & Serve
Our ready-to-enjoy meals are a great place to start if you're hosting clients for a virtual lunch, or a day-long conference featuring appetizers, entrées, desserts and more.
Chef Kits
Prefer a more hands-on offering for your team? Our chef kits come with all the ingredients needed to prepare an elegant meal at home. We've done most of the prep work, but some cooking/heating and plating will be required.
Beverages
While you and your team can't wrap up a busy day with a drink at the bar, we can bring happy hour to you! Featuring wines, spirits, beers, ciders, cocktail kits and an assortment of alcohol-free options, our beverage list is sure to have something for everyone.
Chef Demos
Include one of our interactive chef experiences at the end of your meeting, for team building or engagement with your clients! Chef will walk you through the preparation of the main dish of a three-course dinner on a live Zoom chat, where you will have the opportunity to ask questions and get tips.
Corporate Offerings
Virtual meetings got you down? Add some spirit to your next online session with our meeting in a box, or push that office chair to the side and get everyone's blood flowing with a virtual yoga demo!
PLANNING A VIRTUAL EVENT
Step 1: consider the experience you want guests to have
Augmenting a meeting with food (no cooking involved!)
Sending a restaurant-style meal for guests to cook at home along with instructions from our kitchen
Creating an experience for recipients to learn from one of our chefs, sommeliers, bar chefs, florists, or chocolate maker
Step 2: prepare your invitations
Invite your attendees — allow us to create a custom secure link for you to send to your recipients that will collect their addresses and meal preferences
Having your recipients' addresses will allow us to provide the most accurate quote for your event service.
Step 3: have everything delivered to their doors.
Wait for delivery notification and the knock on your door
Our team will provide a delivery window for your recipients to receive their boxes. We're also happy to reach out to your recipients directly to notify them of arrival.
VIRTUAL PRESENTATION SUPPORT
Virtual Presentation Stage at Arcadian
Looking to incorporate a live presentation or in-person element to your virtual event? Arcadian's presentation stage is the perfect space for your virtual event headquarters, providing high-quality streaming solutions with a professional look. We can even host guests in our ballroom, so you can host a live audience and stream your event at the same time!
LEARN MORE